 WHV and long-term travel insurance:
Online Comparison tool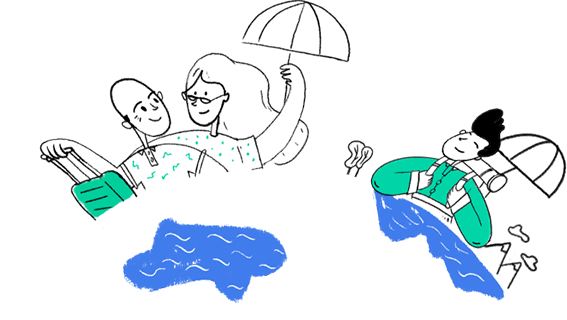 Find the best travel insurance in just a few clicks.
Compare, you will save on the price of your travel insurance compared to the formulas sold with the trip.

Trip cancellation, medical assistance and repatriation.
Baggage theft, plane delay, baggage delay, civil liability, reimbursement of health costs, help for children: complete formulas to discover at low prices.

Essential guarantees for trips of more than 3 months.
Conventional travel insurance does not cover these long trips. A suitable cover is essential to prevent the dream from turning into a nightmare.
The best travel
insurance
With full transparency

Compare WHV and travel insurance in one place.
We too often buy travel insurance without comparing guarantees and prices. However, their price represents about 5% of the price of the trip and above all it is difficult to know what is guaranteed and even more so, what is not. Compare, you will be better covered and for less.
The travel insurance comparator displays in the same summary table the main guarantees offered, the prices and the conditions, you can then receive the complete documentation and be informed by an independent expert.


Modular formulas that
adapt to your travels
They include in particular :
You choose the warranty period that suits you, from 1 to 12 months. If your trip is prolonged, the contract can be renewed. Some insurers offer a very convenient monthly payment for long-term stays.

Don't settle for basic insurance
Insurance is often included in the credit cards or sold at the same time as the trip.
They have limited guarantee ceilings and above all very strict conditions for coverage and reimbursement. Do not hesitate to replace them with appropriate travel insurance. Several options are available to you to cover what you need at the fairest price. On some trips, the savings can reach more than €200.

Higher
Guarantees
Medical costs can be very expensive abroad. Hospitalization often costs tens of thousands of euros and simple emergency examinations can quickly cost more than 1000 euros.

The guarantees of many contracts have insufficient reimbursement ceilings, often limited to 150,000 euros. It may seem like a lot, but in a private hospital, the bill goes up very quickly.

Management procedures
adapted to remoteness
In classic travel insurance, to be reimbursed you must first call the insurer to open a file and then send your reimbursement requests to the Sécu and your mutual insurance company before sending what remains to be paid to the insurer. Not easy when you are at the end of the world.

With appropriate insurance, management procedures are facilitated and you receive your reimbursement without having to wait for your return to France.
News about
travel and WHV insurance